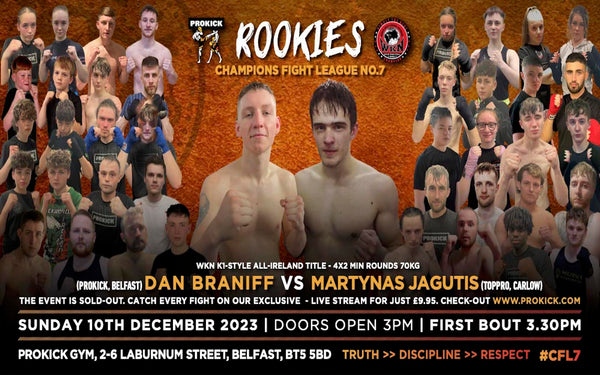 Rookie Kickboxing Event CFL No.7
Our next Show for our ProKick wannabe fighters will descend upon the fight fans of Northern Ireland Sunday, December 10th, 2023.
Get ready for another exciting Kickboxing show designed exclusively for first timers, rookies, and aspiring fighters! Introducing "The Rookies" by ProKick, a group of passionate individuals who embarked on their kickboxing journey just this year, but are eager to step into the ring.
Champions Fight League No.7 
READ MORE ABOUT THE SHOW

ProKick Gym is at 2-6 Laburnum St. BT5 5BD

Tickets £20.00 each.

Contact ProKick reception on the of chance for ticket cancellation